Surv. Alhaji Daud Sulemana Mahama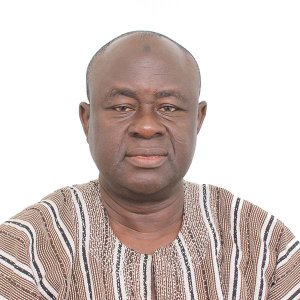 Surv. Alhaji Daud Sulemana Mahama was appointed as the Executive Secretary of the Lands Commission in August 2018 by His Excellency Nana Addo Akuffo Addo-Dunkwa.  Sule as he is commonly called, had 34 years progressive working experience in public sector land administration.  Sulemana is known as a goal-driven, skilled project management specialist and a dynamic big picture visionary and multi-task specialist with analytical capacity to dissect operations, procedures and processes and their impacts on results and goals. He has diverse experience and expertise in public & private sector management, land tenure conflict resolution and organizational systems analysis.
Educational Background
Sule holds a Master of Business Administration from Middlesex University, UK (2007) and BSc. (Hons) Land Economy from Kwame Nkrumah University of Science and Technology, Kumasi (1984).  He further holds Post Graduate Certificate in Land Management & Planning, Pennsylvania State University, USA as Hubert H. Humphrey Fellow (2000) and a Post Graduate Diploma in GIS for Cadastral Applications, ITC, Enschede, the Netherlands (1992).  Sule has undergone several local and foreign short-term courses including Chief Executives Programme at GIMPA, Accra in 2009, Special Management Analysts' Programme also at GIMPA, Accra in 2008 and International Management Trends, Paris, France
Sulemana has undergone several short term courses such as: Chief Executives Programme – GIMPA – Accra, 2009;  Special Management Analysts' Programme – GIMPA, Accra, 2008; International Management Trends, Paris, France, 2006;  Assurance of Quality of Project/Programme Design & Implementation in Africa, Cape Town, South Africa, 2004;  Strategic Planning & Management of Land Administration & Geographic Information Organizations, Gavle, Sweden, 2003;  Reform in Land Administration Systems, Leyte, Philippines, 2003;  Project Cycle Management Using the Logical Framework Model – World Bank, Washington DC, 2000; Environmental Information Systems Modules 1 & 2, Copenhagen, Denmark, 1994; and attachment Program in Valuation Practice, INSPEN, Malaysia, 1990.
Professional Background
Surv.  Alhaji Mahama is a Member of the Ghana Institution of Surveyors with 30 years in good standing and an elected Fellow of the Institution since 1999.  He is currently the Chair of the Valuation and Estate Surveying Division of the Institution.  Sule is also a Member of the Association of MBA's (AMBA – UK), 2007.  He is a dynamic result-oriented professional in land administration, property appraisal and organizational management with track record of effective leadership in achieving results in complex environments.
Work Experience Outside the Lands Commission
Sule's work experience transcends the Lands Commission.  He was the Technical Director in charge of the Land Sector at the Ministry of Lands and Natural Resources from January 2016 to August 2018.  He was also the Acting Chief Director for the Ministry between August 2017 and January 2018.  As the Technical Director, he was responsible for land policy development and co-ordination, monitoring and evaluation of land sector programmes and projects, providing land advisory services to State agencies, customary authorities and the general public.
Between 2012 and 2015, he was seconded to the Ministry of Lands and Natural Resources as Acting Technical Director to provide land tenure advisory services to the Minister and Chief Director. He also served as liaison for the Ministry in inter-Ministerial discussions and committees on land; involved in drafting position papers, policy briefs, Cabinet Memoranda, investigating and addressing complaints submitted to the Minister by the public as well as providing technical assessments of land development proposals submitted to the Minister.
Sulemana effectively led the start-up of implementation of the Ghana Land Administration Project as the Project Co-ordinator in 2003 up to 2005. He was responsible for developing multi-level project structures, sourcing and training personnel, facilitating development of project implementation manual, training plan and monitoring and evaluation framework as well as organization of stakeholder engagements to ensure project uptake.  The stakeholder included public land agencies, National & Regional Houses of Chiefs, entire Judiciary of Ghana, Ghana Bar Association, other Professional Bodies, Ghana Association of Consultants and NGOs.
Background at the Lands Commission
Surv. Alhaji Mahama has worked for 34 years at the Lands Commission and has played many roles in various capacities in land administration. Between May 2015 and January 2016, he was the Head of Policy Planning, Research and Special Projects in the Lands Commission. His special attention was on streamlining land records management at the four Divisions of the Commission; facilitating the development and implementation of a Monitoring and Evaluation System for the Commission; and streamlining the land titling processes at the Land Title Registry with a view to decentralize operations to four Municipal & District Assemblies in the Greater Accra Region.
Alhaji Sulemana managed the Greater Accra Regional Lands Commission as Regional Lands Officer from 2000 to 2001 and initiated the redevelopment concept of the Nungua Farms among others.  He also successfully drafted the Project Concept for the first Ghana Land Administration Project (LAP I), as an intern at the World Bank Land Policy Thematic Group (Washington DC – 2000).  He further led the local team of land administration professionals to support the International Consultants in the project design, and undertook fund-sourcing from six different funding agencies (2001 – 2003).
He served as lands specialist for the development of digital land ownership maps and databases for the land ownership component of the Ghana Environmental Resources Management Project, which was a World Bank funded initiative.  He was also a training officer in the Lands Commission (1994 – 1996) and served as the Acting Regional Lands Officer for Greater Accra between 1996 and 2000.
He was the Head of the Land Acquisitions Section of the Lands Commission and coordinated compulsory acquisition processes and developed digital database for state lands in Ghana (1996 – 1998).  He successfully led the design and internal marketing of a first ever organization-whole strategic plan for the Ghana Lands Commission (2008) and also, successfully conducted manpower audit and designed an organizational manpower development and training plan for Ghana Lands Commission (2008).  He has served as an external resource person in land administration training for Judges at the Judicial Training Institute (2007 – 2014).