SURV. JAMES EBENEZER DADSON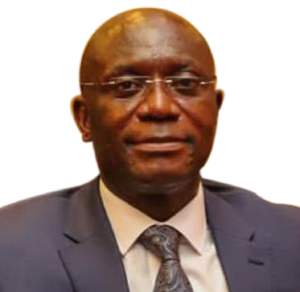 BORN on 21st August 1962, Mr JAMES EBENEZER KOBINA DADSON is currently the Acting Executive Secretary of the Lands Commission and also the board chairman of the Ghana Institute of Surveyors.
Mr Dadson worked with the William Ofori Company from 1992 to 1994 before joining the Lands Commission in 1994. He rose through the ranks to a Chief Lands Officer and has held the Regional Lands Officer position in over six Regions in the country.
He moved to the Ministry of Lands and Natural Resources as the Technical Director for Lands where he provided policy and advisory services on land-related matters to the Minister.
He coordinated the programs of the lands sector agencies at the Ministry.
He played a vital role in the passage of the Land Act as he liaised with the Parliamentary Select Committee on Lands and forestry for the passage of the Land Act 2020 (Act 1036).
Mr Dadson holds a BSC. (Hons) in Land Economy from the Kwame Nkrumah University ofScienceandTechnology, a Professional Master's (PM) in Urban Planning and Land Administration, International Institute for Geoinformation and Earth Observation (ITC), Holland and a Chief Executive Program, from the Ghana Institute for Management and Public Administration (GIMPA).
He holds a number of positions including being a Board Member of the Land Use and Spatial Planning Authority and also a Board Chairman of the Ajumako Mando Senior High Technical School.
Mr James Dadson is a member of the Royal Institution of Chartered Surveyors (RICS) and also a Member of the International Federation of Surveyors (FIG).
He has attended a number of international and local workshops which includes being a Participant in FIG Africa Taskforce Professional workshop on "Effective Communication in Estate Management, Valuation and the Built Environment" Portsmouth, UK: 2014, participating in the West Africa Regional Workshop on Land Dispute Resolution for the Commonwealth Association of Surveying and Land Economy in Accra Ghana: 2012, being a participant in the Commonwealth Association of Surveying and Land Economy (CASLE) Conference; Malta. Presented a paper on "Achieving Sustainable Land Administration in Ghana; The Emerging Issues": 2011 and many others.
Mr James Ebenezer Kobina Dadson is an enthusiastic team player, with analytical and problem-solving skills, and an excellent skill in training, facilitating, organizing and planning Land Administration programs.