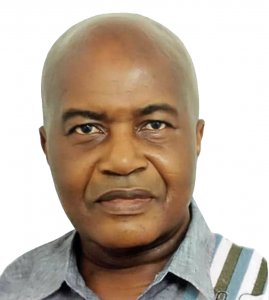 Mr Stephen Ayesu Ntim, the National Chairman of the Lands Commission, is a product of the University of Ghana (1984) and the University of Minnesota, USA (1991), from where he holds a Bachelor of Arts Degree in French and Linguistics and MBA in Management Information Systems respectively.  Stephen also holds a Diplome Superieur d'Etudes Francaises (1982) from the Universite Nationale de la Cote d'Ivoire, Abidjan.  He had his GCE 'O' Level education at Asanteman Secondary School (1977), Kumasi, in the Ashanti Region, and GCE 'A' Level education at Navrongo Secondary School (1979), Navrongo in the Upper East Region.  Stephen did his National Service at the Kaneshie Secondary Technical School between 1984 and 1986 as a French Tutor.
He has over 20 years' experience as a Systems Engineer in both the USA and Ghana.  He started his profession as a Systems Engineer at Electronic Data Systems (EDS Inc) in Michigan, USA where he worked from 1993 to 1995. Prior to that, he trained as a Programmer/Analyst at St. Paul Fire and Marine in St. Paul, Minnesota, USA.
He has served and has vast experiences from several executive and corporate positions. He is a Director of BINSCO Associates, Accra; Managing Director of Espan Company Limited, a construction and engineering services company; and Managing Director of a commercial printing firm, Detroit Computer Images at New Achimota, Accra.  He is Chairman of the Board of Trustees of an Accra based NGO for the preservation of Ghanaian Culture, Heritage Protection Foundation; Board Chairman of Aqua Drill Company Limited.  He was a Board Member of Electricity Company of Ghana from 2007 to 2009.
In terms of social services, he is a member of the National Black MBA Association, Minnesota Chapter, USA.  He is also a member of the National Council of Patrons of the Association of Methodist Church Choirs, and a Counselor and member of Methodist Men's Fellowship, St Peter Methodist Church at Mile 7, New Achimota in Accra.  Stephen is also Life Patron of Wamfie Youth Association, Wamfie in the Brong Ahafo Region and a member of the Brong Ahafo Patriotic Caucus (BAPAC).
Mr Stephen A. Ntim brings on board a very rich experience and expertise in Management Information Systems to drive the agenda of creating a digital platform for land service delivery at the Lands Commission.